Bradford Catholic Partnership Sports hall Athletics
Congratulations to the U11's team that took part in the Sports hall athletics competition at St Bede's and WON! We are onto a winning streak at the moment!
Aire Valley U9 Football League
The U9's have been taking part in a football league with other local schools as part of the Aire Valley Sports Partnership. There were 20 teams competing to be the overall league winners with our team finishing in 5th place. A great achievement, well done boys!
Bradford Catholic Partnership Rugby Tournament
Congratulations to the rugby team who took part in the Catholic Partnership U11's competition at St Bede's. The played fantastically and won the overall tournament! Well done boys!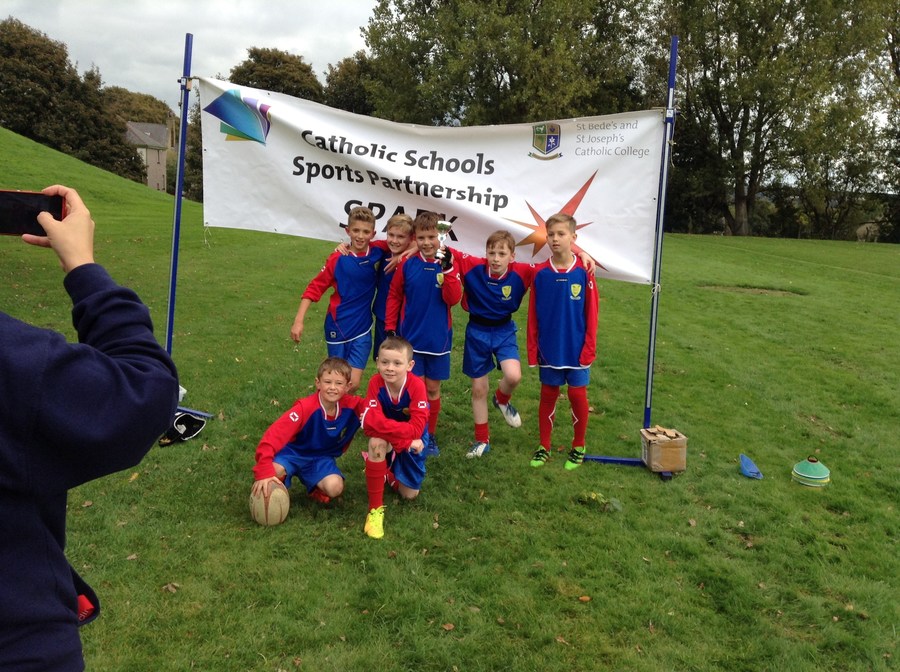 Cross Country Challenge
Well done to all the children who took part in the Y5/6 cross country challenge with Bingley Harriers. A special well done to Lucas Stabler who came in 2nd place in his race.
Cross Country is Back!
Cross country training will restart on Tuesday 4th October with races being held at various venues. Please speak to Katy Stabler or Liz Rayner if you are interested in joining the team.
Bradford Catholic Partnership Football
Both of our U9 and U11 teams took part in the annual competition at St Bedes. Amazingly, both the teams won the overall competition for their age range! We are looking forward to the Summer tournament now to see if we can keep our winning titles.
Bradford Catholic Partnership Football Tournament
This year both our U9s and U11s took part in the annual tournament at St Bede's. It was a great success for both teams, especially the U11's who won the who competition! Congratulations!
Tennis
Well done to Holly Huby, Erin O'Carroll, Isaac Stabler and Lorenzo Cardamone who took part in the Aire Valley U9's competition.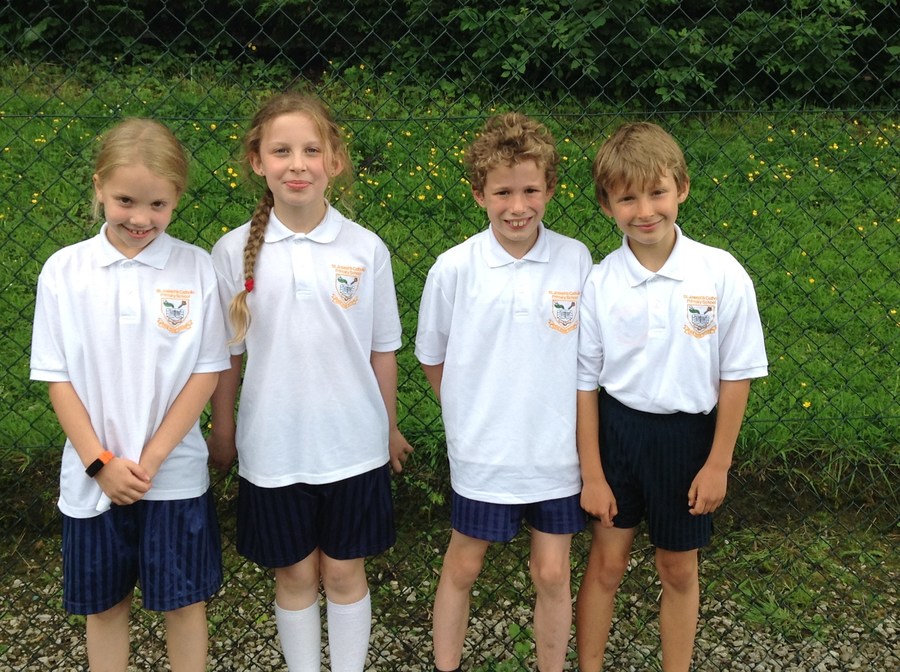 Brownlee Triathlon
Congratulations to the Year 3 and 4 children who took part in the second triathlon at Bradford Grammar School.
Active Kids Vouchers
We are once again collecting the Sainsbury's Active Kids vouchers. These help us to buy new PE and cooking equipment. Vouchers can be placed in the box by the Office. Thank you.
Sportshall Athletics
Congratulations to the team who came 4th in the competition at Beckfoot.
Brownlee Triathlon 2015
We were very excited to be able to compete this year in the Brownlee Traithlon at Bradford Grammar School. 15 children went to the event to represent our school and had to complete a 25m swim, 1k cycle and 400m run. The children were thrilled to meet the Olympic and World Champions Alistair and Jonathan Brownlee themselves!
Cross Country
Well done to the children who took part in the first race of the new season. Congratulations to Sam who came 1st and George who finished 2nd.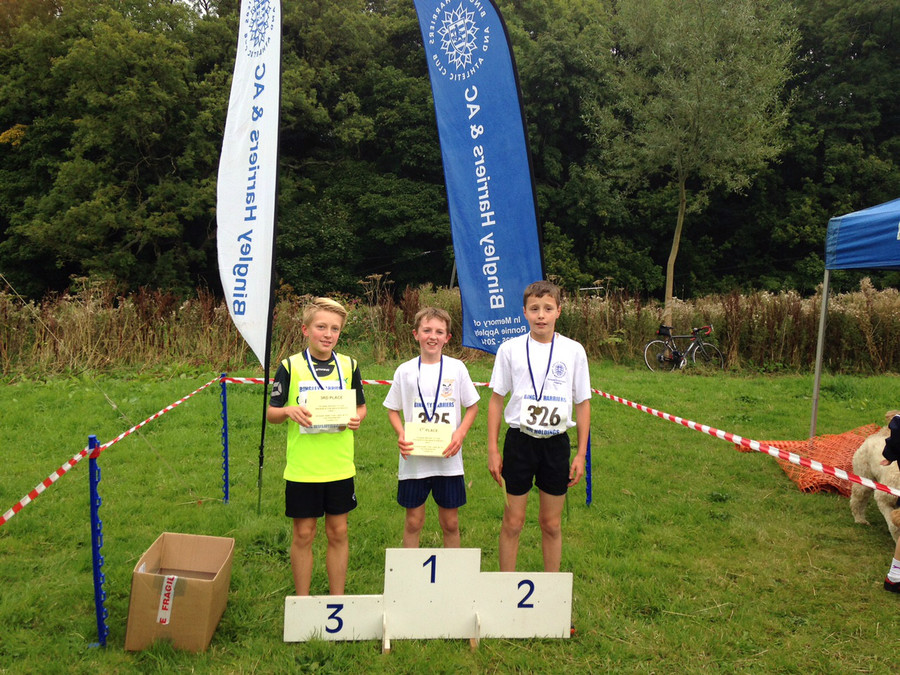 By George! wins five sportshall athletics titles
Congratulations to George who won five under-11 boys' events at the West Yorkshire Sportshall Athletics Trials at the Richard Dunn Sports Centre– the two-lap trial, obstacle time trial, standing long jump, chest push and standing triple jump! We are very proud of George's achievements.
George is also competing for West Yorkshire on Sunday 8th February 2015 at the Regionals in Hull. Good luck George! Watch this space for news of his results.
Access the link for the Telegraph and Argus article on George.
Cross County
Take a look at some of our fabulous Cross Country runners. One blink and they have gone!
Keighley 10k
Congratulations to Niamh and Lucas who both entered Keighley 10K (March 2015). Niamh won the gold in the girls U11's and Lucas won silver in the boys U11's. Super stars!
Netball
Congratulations to our Year 5/6 High 5 Netball team who reached the quarter finals in the Bradford qualifiers. We are very proud of your superb team effort!
Swimming
Congratulations to our swim team who won silver medals, securing them a place in the finals next week. Good luck super star swimmers!
On Saturday 19th March the St Joseph's swimming team won the Bingley Swimming Club Primary Schools gala! It was a fantastic night and the children were amazing,a real credit to the school. Well done to all those that took part.