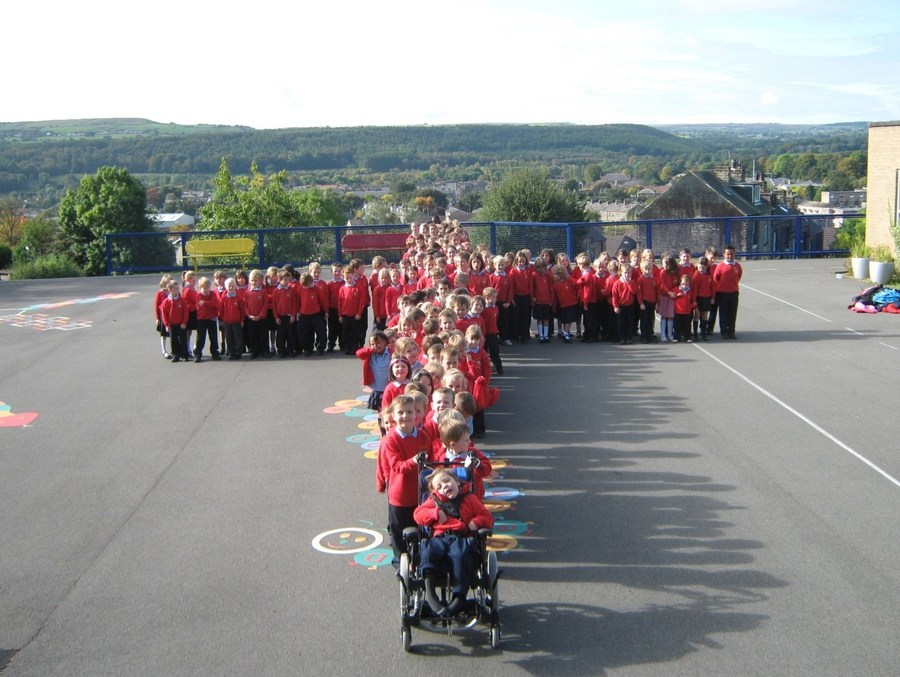 Here at St Joseph's we believe our children really live out their motto of to 'love, care and share'. Our faith permeates through all we do. Our vision for our school is to 'learn with Jesus, to be the best we can be', which was chosen by the children, staff and governors together.
We are often asked: Why does the Catholic Church provide schools? In his document, 'Christ at the Centre', Bishop Marcus writes that the Catholic Church provides schools to:

Assist in its mission of making Christ known to all people.

Assist parents, who are the primary educators of their children, in the education and religious formation of their children.

Be at the service of the local Church - the diocese, the parish and the Christian home.

Be "a service to society"
At St Joseph's, this is what we strive to provide.
Our Mission
"Go ye therefore and teach all nations" Matt 28: 19
We aim to grow in knowledge and friendship with God

We, the governors, the Headteacher and the staff will uphold the Catholic Values of our school life

We will feel compassion for others in difficulties

We aim for a welcoming, Christian atmosphere

We live our lives according to Gospel values, following the examples of the Saints

We will achieve the best we can academically, spiritually and in everything we do

We will work in partnership with our families, our parish, other schools and our diocese to create a community of faith

We welcome other faiths working in harmony with Catholic traditions

We will deliver a high standard of Religious Education which will be reflected in all of our teaching

Prayer and Collective Worship will be at the heart of our school life and we will enjoy regular visits from our parish priest who leads us in our spiritual development

We will care for our world and everything in it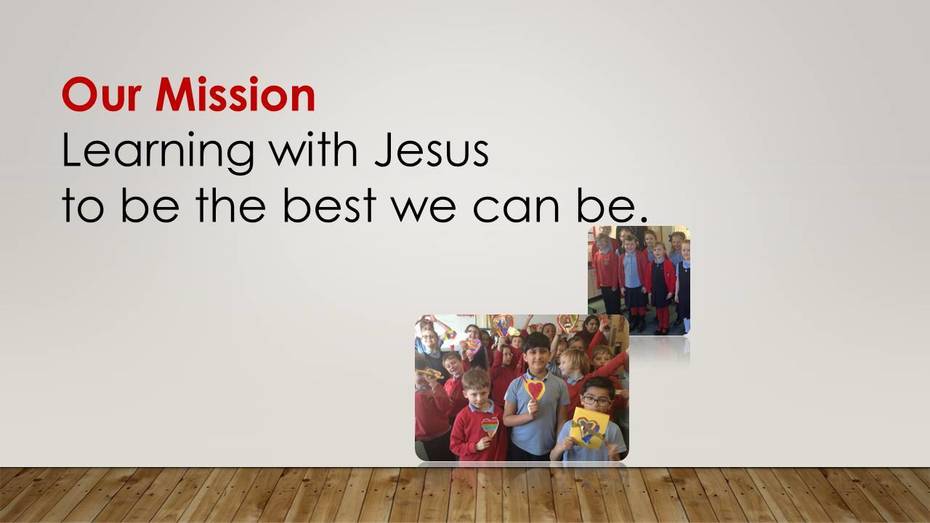 In our latest RE Inspection (March 2019) it was said that:
"Pupils' contribution to the Catholic Life of the school is outstanding. The pupils are rightly proud of their Catholic school and know that they benefit from attendance there...
High quality Collective Worship is central to the life of the school and is a key part of every school celebration being a prayerful and reverential experience for all.

Pupils are extremely polite and helpful to visitors and this goes hand in hand with their exemplary behaviour towards each other. They willingly accept responsibility for caring for each other.

A majority of the creative Religious Education teaching is outstanding but is never less than consistently good. Staff subject knowledge is excellent and pupils are motivated and enthused by the creative challenges presented to them in lessons."
For further details, please read the full report here.
Here is our ADVENT RE newsletter. Thank you Mr Conway and the faith leaders for producing it!
Here are some examples of how we live our faith:
Faith in Action
Thirteen of our Y5s and Y6s are undertaking their 'Faith in Action Award'. To achieve this award, the children have to earn 1000 points in the following areas: Parish Practise, Pilgrimage and Procession, Prayer and Social Action. You might see them raising money for charity, leading worship in school, or helping out at Mass on Sunday. Look out for them!
Good Shepherd Celebration May 2018
Four of our Mini Vinnies represented the school when they went to Leeds Cathedral to present Bishop Marcus with a cheque for £500 for the Good Shepherd fund. They really enjoyed meeting the Bishop and having a chat with him. They were fantastic and behaved beautifully, well done girls!
Mini Vinnies
The Mini Vinnies are collecting for the local foodbank. Please remember to bring in donations and place them in the box in the Prayer Room. (See their section on the website for more details!)
Leading Prayer
All the children in school have an opportunity to lead prayer in their class at an age appropriate level. Some of the Y5/6 children are Faith leaders and they plan and deliver acts of worship for other classes (See the worship section for further details!)
Remembering the Fallen
The Faith Leaders led a Remembrance Liturgy for the fallen soldiers of WWI and subsequent wars. We made poppies to hang in the playground. Each poppy had a name of a soldier that each child decided to pray for.
Year Four and Five Easter Production
Year Four and Five retold the Easter story through dance and drama led by the talented team at More Than Dance. It was a thought provoking and moving performance enjoyed by all.
One God, One World

The CSP Art Exhibition 'One God, One World' visited our two churches. Children read confidently about the purpose of the project and were great ambassadors for our school. Well done!
Year of Mercy Retreat 2016

The weather may not have been on our side for our retreat day to Clapham but it did not stop us having a wonderful day! It was great to get away from the hustle and bustle of everyday life and spend some time together. The focus of the day was God's gift of Mercy; we completed lots of activities in between sheltering from the rain and ended the day with Mass led by our Faith Leaders and Mini Vinnies.
Big Splash!

Thank you everybody for supporting this year's Lenten fundraising. We have been thinking about the world which God has given us and how we can look after it with our 'One God, One World' project, based on the Pope's encyclical, 'Laudato Si'.
Therefore, this year, we have raised money for CAFOD's 'Big Splash' which aims to provide clean drinking water to communities that do not have it. We collected loose change and Mrs Gaul helped us with an afternoon's sponsored sing. Altogether, we raised a very impressive £2,392.20! A special 'well done' to Y2 the class who raised the most.
How utterly amazing, and well done to everyone involved - we are so proud of your continuing commitment to helping others and truly living our faith, putting it into action!
THANK YOU!
Mini Vinnies
We are really excited about this new venture at St Joseph's and were very lucky to have Mr Albert Maher (the President of the SVP for our diocese) Mrs Kath Altham and Mr Steve Cook to award our Mini Vinnie Volunteers with their certificates and badges at their commissioning ceremony this week. We also welcomed governors and members of our parish SVP to welcome these children into the much wider SVP family. The children from Key Stage 2 made their Mini Vinnie pledge to 'put concern into action' and truly live out Catholic Social Teaching. We are very proud of them and look

Grandparents' Mass 2016

Once again, it was standing room only for our annual Grandparents' Mass. We remembered the feast of the Presentation of Jesus at the Temple and Year 2 led us in a beautiful Mass before providing some entertainment for the Grandparents. We recognise the important role our grandparents play in our lives and we thank them very much for all that they do for us!
Harvest Mass 2015
Once again we have been overwhelmed by the generosity shown in response to our Harvest Appeal. The SVP have been very impressed and will be able to distribute lots of parcels to the housebound and elderly of the Parish, Inn Churches, Bingley Food Bank and the Friars at St Patrick's (who will be grateful for the vegetables at their soup kitchen!). Lots of the tinned products will be kept to help those in need especially over the winter months. So a big thank you to all those who have brought things in as well as those who helped the SVP package it all up.
We also held our traditional Fairtrade Stall and Mrs Gaul also took orders for the Bethlehem Carpenters who struggle to make a living because of the troubles in that part of the world. Both were very well supported - thank you for your generosity.
Pebble Assembly 2015
We always enjoy welcoming the new members of our school community.
Enrolment Mass 2015
On Saturday 12th September 31 children in our parish and their parents attended the 6 o'clock Mass of Enrolment at Sacred Heart Church. The children were given wooden crosses to wear each time they go to Mass as a sign that they are wanting to put 'their faith into action'. Please pray for us at this special time.
Fr Sean's 25th Jubilee

A great afternoon was had by all celebrating with Fr Sean. Our new Faith Leaders began with a beautiful liturgy and the celebrations ended with ice creams in the sun! Thank you Fr Sean for all that you do for our school (and for the delicious ice creams!).

May Day Procession
In this month of May, we remember our Blessed Mother Mary. The weather was kind to us as we processed around the school grounds before entering school to crown and adorn with flowers our statue. The First Holy Communion children were presented to our school community and the rest of the school wore blue and white to remember Our Lady. A wonderful and reflective celebration. Thanks to all involved.

Good Shepherd Appeal
The Good Shepherd Appeal is an opportunity for children to help children in our Diocese. The partnership between schools and Catholic Care provides funding to ensure that loving families are provided for those children who depend upon the support of Catholic Care. It also provides care and support for other vulnerable groups within the Diocese.
During Lent we were given an opportunity to reflect upon the very heart of Christian life: charity. It is a favourable time to renew our journey of faith, both as individuals and as a community, with the help of the word of God and the sacraments. This journey is one marked by prayer and sharing, silence and fasting, in anticipation of the joy of Easter.
We are called to help build up God's Kingdom here on earth and Lent is a good time for us to help our children realise that they too can help those who are in need.
This year we raised £600 pounds and some of our children went to the Cathedral in Leeds to present a cheque to Bishop Marcus. Thank you for your generosity.
We welcomed Mr Johnson in from Catholic Care to launch our Lenten Appeal and talk to us about the important work of Catholic Care.
St Joseph's Day Mass and Celebrations

We always enjoy celebrating our school feast day and this year was no different!

Prayer
Prayer is a fundamental part of everyday life at St. Joseph's. Staff and children pray together regularly. Pupils increasingly prepare and lead worship with confidence and enthusiasm. All are at ease and act with respect when praying with others who have different beliefs and attitudes towards spirituality. High quality Collective Worship is central to the life of this school and a key part of every school celebration. Pupils enjoy celebrating their faith through their actions, prayers and hymns. Although space is very limited, a small prayer room has been created inside the school building and following recent sad bereavements in school, a memorial garden has been created outside within the school grounds. Relatives visit regularly.
Other Faiths
"The cross curricular approach to RE at the school enables pupils to make out of school visits to places of worship. Speakers of other faiths are also invited into school to talk about their particular beliefs, customs and practices. Pupils say how much they enjoy taking part in these activities."
Grandparents Mass

An extremely popular and well attended event as always. What a great way to remember those special people in our lives.

Displays Around School
"RE displays are of a notably high standard and have a very positive impact on the learning environment of the school. RE displays are frequently accompanied by appropriately thought provoking quotations from scripture and prominently feature pupils' own work. Displays conform to diocesan guidelines and the school's own RE Display Policy."